So I spilled boiling homebrew on my laptop and was using my wife's for awhile. I am still transferring files to my new computer and so I will post some more reviews in the coming days. Anyways here are my reviews:
Beer: Choc Beer Basement Batch Pale Ale
Aroma
: Cascade up front for sure. Not sure if they use other hops or not, but I've brewed a couple cascade pale ales and this one definitely uses some late additions of cascade. I also get some bread and caramel aroma, but it is definitely playing second fiddle compared to the cascade hops.
Little guy looks happy enough on the bottle
Taste
: Way more bitter than I thought it would be. The aroma seemed delicate and flowery, so I wasn't expecting a lot of bitterness. Don't get me wrong, its not a tonsil-splitting IPA, but its got some IBUs to speak of. After I got over that though, I am really not getting a lot out of this beer. My tastebuds may be shot from a long weekend of beer drinking, but I don't get the "generous caramel and victory malt" taste out of this that the bottle claims. The beer is on the darker side of orange so I'm sure they put a decent amount of crystal in there, I am just not getting it.
Mouthfeel
: Pretty standard for a pale ale, kinda dry but not too dry.
Worth a try?
: I wished I liked it more. I like the fact that it has actual bitterness and not just late addition hop aroma and flavor, but I really don't get the malt backbone the bottle says it has. The beer has good hoppiness and I like drinking it, but it is kind of underwhelming for me. I would still recommend it because I have tended to gravitate towards extremes lately and for someone who likes your everyday run of the mill pale ale this thing may be out of this world, its just not my thing.
Beer: Cigar City's Maduro Brown Ale
Aroma
: Very nutty with a lot of roasted walnuts and pecans. Dark brown sugar and crystal malt.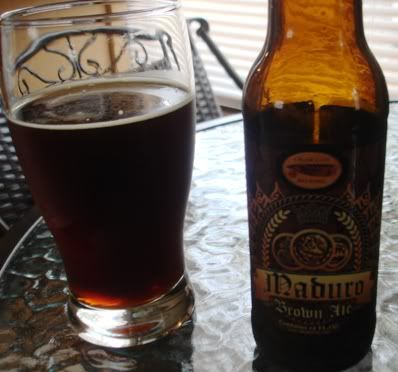 Taste
: At first there's a lot of dark malt flavor. Its really smooth and kind of sweet. A second wave of flavor on the back of the tongue is more bitter and hoppy, with some roast flavor as well. Once it warms up a definite coffee flavor is there. I can taste a really really faint off flavor that I can't pinpoint, but nothing that really affects the overall beer in my opinion.
Mouthfeel
: Very creamy, I really like this mouthfeel
Worth a try?
: Yea, one of the better brown ales I've had(I've had a lot). The roast flavor is much stronger than your average brown ale so I would suggest this one for sure if that's what you're into. As a side note, I've had Cigar City's Bolito Double Brown and it is pretty fantastic as well.
Beer: Rogue's Shakespeare Oatmeal Stout
Aroma
: Chocolate, roast, and coffee. I have reviewed some brown ales lately that had "some roast". Let me be clear, they do not have this level of roast and coffee at all. It is extremely strong and awesome. The aroma is of dark chocolate with undertones of mocha and whatnot.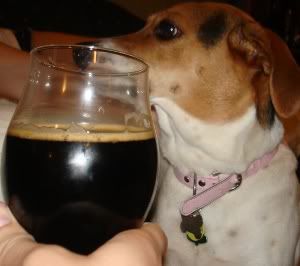 A stout truly for the discerning beagle
Taste
: Kind of a dark, burnt taste. That sounds bad, but it is really smooth and sweet. It tastes of charred malts, bitter hops, black coffee, and dark chocolate. Samuel Smith's oatmeal stout is my favorite, but this is a close second that will act as a caliber for oatmeal stouts.
Mouthfeel
: Classic oatmeal stout mouthfeel. It has a really good texture without being chewy, good stuff.
Worth a try?
: Not sure about the distribution in your area, but if you can get it you should try it. If you don't like this beer then you don't like oatmeal stouts, nuff said.
Beer: North Coast Brewing Co Old Stock Ale
Aroma
: Super dark caramel with some light chocolate and a ton of booze. It almost burns to smell.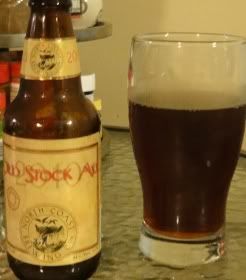 Taste
: I taste dark caramel, a really sweet cherry flavor, and some more booze. The flavor is really complex with a sweetness that goes from dark to sweet quickly. There is a hint of cough syrup in this stuff.
Mouthfeel
: Thick as pig shit… if pig shit was thick
Worth a try?
: This is a really good example of an old ale. It has a ton of character. The cherry flavor is different for sure, its obvious there aren't actual cherries in the brew but the complexities of the malt lend themselves to this dark fruit flavor.
Beer: Cigar City's Jai Alai Cedar Aged IPA
Aroma
: Well, it says its cedar aged so it should have a faint smell of… holy fuckin shit it smells like a bunch of cedar trees are fucking each other on a bed of cedar wood. At first smell you get some citrus hops but before you can finish the smell you get a punch in the face of cedar. Spicey and piney all the way.
Taste
: There is some caramel backbone and a little bit of bitterness. I love the malt backbone, but I wish I could taste it a little more. The taste, like the aroma, is dominated by cedar.
Mouthfeel
: Smooth with easy to swallow carbonation.
Worth a try?
: I think so. Its definitely unique. After my first sip I would've said no, but after a full glass I want more(which is good because I'm pretty sure they only sell in 750 mL bottles). If the cedar flavor was toned down slightly it might be easier to drink, but I like unique beers.
Beer: Rogue's Dad's Little Helper Black IPA
Aroma
: Some chocolate with a faint hint of hops, but not much else.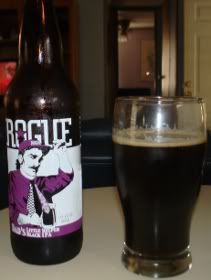 Taste
: Lots of dark roast. Kind of a chalky taste to it. The weird thing is, the bitterness is and hop flavor is really masked by the roast flavor. The chocolate flavor doesn't come through really well, since it is constantly fighting the hoppiness. I really wish that chocolate flavor was by itself.
Mouthfeel
: Chalky and smooth, probably the best part of the beer.
Worth a try?
: I really don't feel like I can give this beer a fair review. I am not a huge fan of black IPAs. Oh god I've tried. I've had 2 or 3 commercial versions and even brewed my own. I just don't think I can get behind this style. Everything I have read about the style really downplays the roasted flavor, but its way too in your face in every version I've ever tried. A big old eh…
Lentils:
Dhal makhani
- take out from local indian restaurant... good shit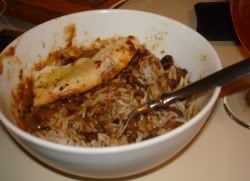 Lentil tacos
- Ive made these before, this time I used some brown rice with the lentils and a little less chipotle, also had sweet potato fries on the side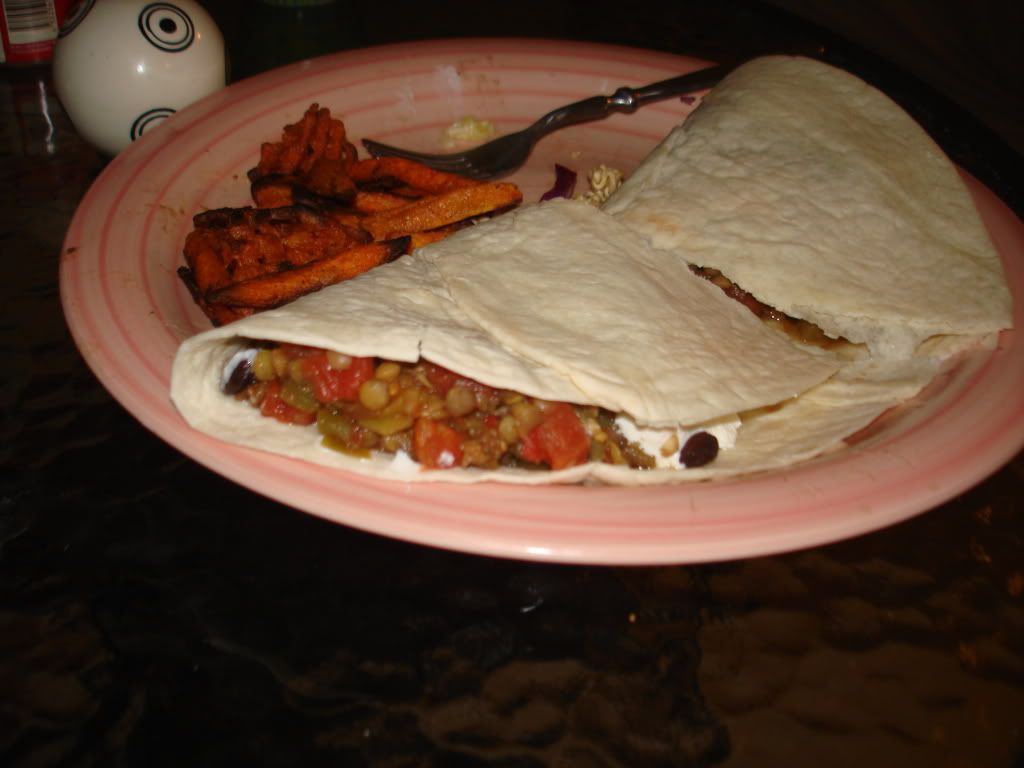 Beer marinated lentil patty melt -
Put with some cheddar cheese, a homebrew brown ale, and worcestershire
As a side note I also drink a shit ton of beer the day I ruined my laptop.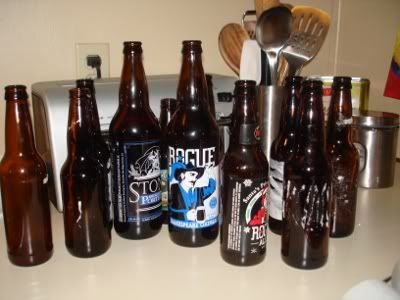 Warning: I do not condone binge drinking... unless it involves rogue