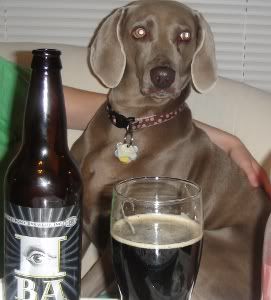 Her eyes show her fear of Black IPAs
Beer: Lakefront Brewery India Black Ale
Aroma
: Bittering hops come forward, with very little roast, if any. The floral and citrus are there, but I definitely wouldn't say they stand out. It smells bitter… if that's possible.
Taste
: Like lots of the other black ipas ive had, the hops are nice, but the slightest hint of roast really fucks it up. Except with this one I get a little lemon citrus hop flavor coming out of nowhere. This kinda tastes like Columbus hops maybe? Its kind of a nice addition to a black ipa that covers up the slight roast flavor. However, the aftertaste is kind of strange with its combo of Columbus-like citrus hop flavor, roast, and bittering.
Mouthfeel
: Smooth and probably my favorite part of the beer. Despite the stranger flavor, Ive downed this bomber and I think I could have another.
Worth a try?
:eh, maybe. I would invest in a stout or an IPA but don't listen to me, I don't like the style apparently.
I keep buying black IPAs when I know I don't like the style. I think I can't grasp why I don't like black beers that are hoppy with a little bit of roast. But the fact is, I don't like the combo. I have a stone sublimely self-righteous ale that I am going to give one last chance… if Stone isn't able to do it for me then I'm giving up on the style.