I had a magic city citrus boy hefeweizen on Friday at roughly 11 AM while brewing. I finished my last real exam ever last week and somehow it didn't feel like I was finally done(after nearly two decades of school) until I popped the top on a beer at 11 AM. A slight buzz before lunch always kinda made the grass greener and sky bluer.
For Dinner I had made some spicy lentils using chipotle powder, chilly powder, and a couple of other drunkenly added spices. I made impromptu double decker tacos by wrapping flour tortillas around hard taco shells using refried beans as some sort of white-trash adhesive. These tacos were badass and I think I have perfected the formula for making a good lentil dish. This involves two very simple techniques: use a moderate amount of salt when cooking the lentils(veggie broth is essentially a vessel to deliver salt so it is perfect) and use lots of other ingredients besides lentils. So to reiterate, the secret to cooking lentils is to cover them in salt and use other foods with them...
Beer: Circus Boy Hefeweizen from Magic City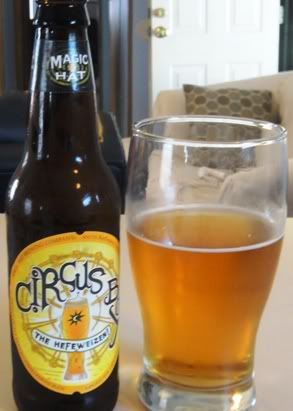 Aroma: Kinda bready, with a little citrus. The smell is refreshing, Once it warms to room temperature, some flowery fruity flavors come out.
Taste: Dry and refreshing. Citrus and lemon flavor is upfront with a bready taste at the back.
Mouthfeel: dry and easy to drink
Worth a try?: Lots of hefeweizens out there, but this one is above average. I would say that if you run across a decently priced 6-pack it is definitely worth buying. However, it is a crisper cleaner hefe and if you are looking for lots of clove and banana flavor it isn't really your hefe. Tasted good on a summer day, it was a really good choice for a pre-noon beer.
Lentils: double decker spicy lentil tacos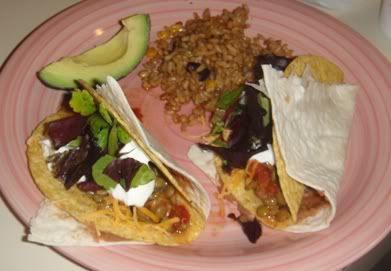 Taste: Chipotle taste really came out. Lots of cheese and sour cream really helped this dish out. Made enough for a couple days so my wife and I can eat what is assuredly going to be one of the very few hits in this hit or miss experiment of mine.