I got sick for a couple of days. I got all of this green shit in my chest and beer didn't taste good. Consequently I had to take a sabbatical. Never fear though, I just did four beer reviews, ate some bland lentils, and watched some british TV on netflix.
My last post was almost two weeks ago and I kind of knew this would happen. Yea, I got sick and wasn't consuming any of the product this blog is about, but I haven't really felt like working on the blog either. I always have these really good intentions about blogging and a couple of months in I have this rarely updated thing on the internet. Its kinda similar to all the model airplanes I wanted to build when I was a kid. I really wanted to be the kind of person that builds model airplanes, but I didn't actually like doing it. I also really want to be the kind of person that is fluent in another language but I don't really like learning new languages. I am gonna try and keep updating this blog though, cuz I read about 10-15 blogs a day and if I can make the time to do that I can surely make the time to type my own, even if I have jack shit to contribute to these interwebs.
Anyways, I am trying to get better at reviews. After I type up them I am going to
beeradvocate
and checking to see if my notes pair up with others and they usually don't. Like I've said before, I have a shit palate but so do most of beer drinkers. I'm hoping that my palate evolves on its own with out the pressure of pretentious beer critics on the internet telling me I have to taste diacetyl in beer A or a medicinal smokey flavor in beer B.
Beer: Leavenworth Eightmile Altbier
Notice my blur of a wife playing video games in upper right corner
Aroma
: Some bread and malt flavor complemented by some really light hops. The deep malt aroma is definitely the dominant smell.
Taste
: Lots of toasty flavor with some light hop bitterness. I dunno if its just me, but some brown ales have this weird sour-esque taste to them. I like my brown ales to be on the maltier side and while this beer has a lot of toast and malt flavor, it has that kind of thin dry sour-ey taste.
Mouthfeel
: Kind of dry but easy to drink
Worth a try?
: Yea I guess… I haven't tried a lot of alts but this one seemed kinda average.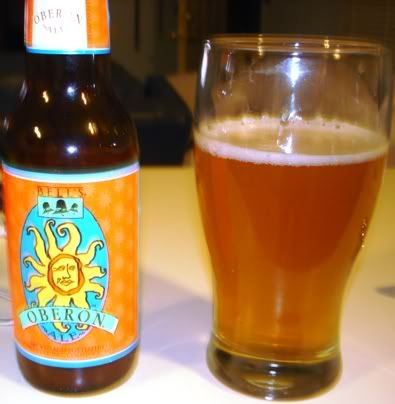 No longer a wife in the upper right corner playing video games
Aroma
: It has a spicey citrus smell that starts off as a generic wheat aroma but leads into some complex fruit smells. I can't pinpoint the fruit smells because they are super subtle and really fleeting. I am getting some sorta smell that reminds me of my childhood, like some sort of highly processed candy.
Taste
: If you've ever had a wheat ale, you know what this tastes like. It may have a little bit of pale malt taste to it, but mostly a wheaty, crisp, bready taste. Well wait… at second taste there is some orange and lemon flavor. Also some honey sweetness. Leaves an aftertaste of sorts, kind of honey-like and sweet on the tip of the tongue.
Mouthfeel
: Really light and crisp, easy to drink
Worth a try?
: You know, this is only the second beer I've tried from Bell's. I like their two-hearted ale, but I don't fuckin love it. I kind of feel the same way about this beer. I brewed a wheat ale a couple months back that is much better than this beer. Don't get me wrong, it is one of the best beers I've ever made, but I'm not really that good of a homebrewer. I think this is a good beer and one I would buy a six pack of it, but if you look at my last post, I was also incline to buy a 12-pack of steel reserve, so maybe my opinion isn't really worth that much.
Beer: Tommy Knocker Imperial Nut Brown Ale
Image quality and beer consumption are inversely related
Aroma
: Not getting any of that maple syrup the bottle claims it was brewed with. I am getting lots of really sharp cherry and chocolate flavors. Nutty and roast smell is also present, with some dark fruits(separate from the cherry). Lots of things going on here and they work together really well. Great aroma.
Taste
: Oh yea, you filthy whore. Really toasty with some dark plum and fig kind of flavor. And I found that maple syrup, its in the taste. The taste is a lot like the aroma with a little bit of alcohol heat at the finish. Such a complex beer.
Mouthfeel
: Thick, creamy, chewy. I am literally chewing.
Worth a try?
: I think so. Some people don't like big beers with lots of flavors that are malt-forward. But some people are also pedophiles. I had an average alt beer earlier tonight and I needed this big beer to shock my tastebuds after that. Buy this shit.
Beer: Barney Flats Oatmeal Stout by Anderson Valley Brewing Company
Taste
: Chocolate, toffee, coffee, and a buttery aftertaste(not diacetyl).
Mouthfeel
: Pretty thin for an oatmeal stout, a smooth beer.
Worth a try?
: Yea, buy this shit. Not as good as the Tommy Knocker imperial Brown, but still kind of the shit.
At this point I would really like to do another beer review but its kind of late and 5 episodes of Black Adder is my limit. I can correlate the amount of absurdness in the british TV I'm watching with how much I've drank. I had two beers before the ones I reviewed, and a 6-pack lines up with black adder, a four-pack with late monty python, a couple bombers of stout with are you being served, a day long drunkfest with old monty python, and if I'm watching Garth Marenghi's Darkplace there will be vomit.