My wife and I made a trip to a Thai restaurant we really like thats about 45 minutes away on Saturday. While there we went to a nearby package store to pick up some beer with the intent of adding to my collection of good shit I'm saving for a special occasion. Then when I got home I exercised some restraint and wait a good two hours before cracking them open. All in all, I was pretty proud of myself. Also I had some leftover lentils and I through some veggies in them.
Beer: Stone's Smoked Porter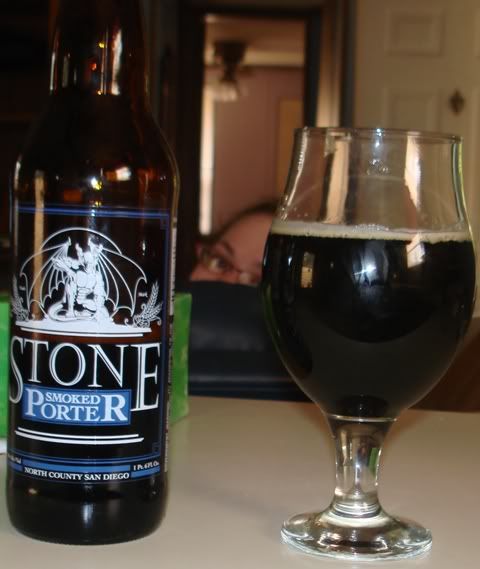 photobomb courtesy of the wife
Aroma
: Cocoa, roast, and smoke. Smoke level is perfect. Aroma isn't as strong as I would think though.
Taste
: Hoppy and smokey at first. Hops and smoke are dominant when you first take a sip but after that chocolate and dark burnt fruit comes out. When drinking this beer I would recommend letting it sit on the back of your tongue for a bit[insert obligatory "that's what she said" comment here] to taste the rich dark fruit flavors that you would otherwise miss.
Mouthfeel
: Medium, some sharp carbonation but also a little viscous.
Worth a try?
: If you like smoked beers its definitely worth a try. But it is on the milder end of smokey so even if a smoked beer doesn't sound like your thing I would still give it a shot. It has some really complex flavors that I didn't expect.
Beer: Gulden Draak by Brouwerij Van Steenberge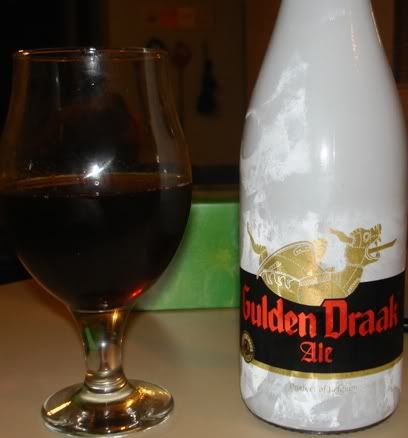 Aroma
: Strong ass candied fruit, strong ass esthers(banana and clove), brandy and wine smell, maybe some alcohol hotness.
Taste
: Spicey, candied fruit, some apricot, warm phenols, and lots of unexplainable good shit. Belgians know what they're doing. A lab full of artificial flavoring and modern engineering couldn't get anywhere close to what these yeast can do.
Mouthfeel
: Dry but not biting, smooth on the way down
Worth a try?
: This worth a try is rhetorical. Hundreds of years of Belgian tradition, billions of wonderous yeast cells, and years of conditioning create a badass product. Even people who aren't craft beer fans would probably appreciate the complexity of this brew. The question isn't should you try it, the question is should you pay 17 bucks for a 750 mL bottle of it.
Lentils: Leftover Red lentil curry with frozen veggies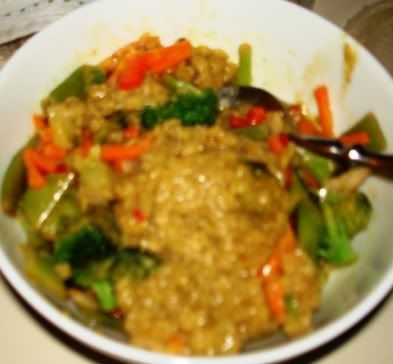 According to my wife, "they taste pretty good for how healthy they are". I think that sums it up pretty well. I threw some olive oil and a bunch of sea salt in a skillet with some frozen veggies and threw them in the red lentil curry I made last night.