Beer: Stone Sublimely Self-Righteous Ale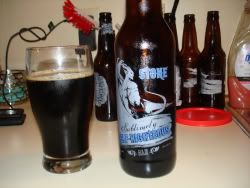 Aroma
: The aroma I like better than the other Black IPAs Ive had. Shit ton on flowery and piney notes. Not quite as strong as ruination, but neither was Hiroshima. I guess I like this aroma better than other black IPAs because you can't smell the carafe III or whatever shit they try to sneak in to make it look like a pile of black tarry stools.
Taste
: There it is. I get a chalky bittersweet chocolate flavor up front. It isn't complex, fruity, or even caramel, just bittersweet. After that you get the inevitable hops. They last for a brief second, and in that second I wish I was drinking some huge Double IPA without the 12,000 friggin levibond malt they put in here. Then on the back… I somehow get even more bittersweet chocolate.
Mouthfeel
: Like all the other black IPAs its smooth, easy to drink, but not super dry.
Worth a try?
: I keep buying these damn black IPAs. Cascadian Dark Ale is a bona-fide style sanctified by the almighty BJCP. They saw it in their wisdom to make this beer a style even though I think the roasted flavors clash with the hops. However, everybody else seems to like this fucking style. Its like a big ass party I wasn't invited to. If you're gonna try a black IPA it should be this one. If for no other reason… I just realized it is 8.7% ABV.
Lentils: Sweet and Sour Lentil "Meat"balls.
1 (20-ounce) can tomato sauce
1 Packet zesty steak marinade
1/4 cup light brown sugar
1/2 orange, zested and juiced
1 tbs Worcestershire sauce
Pinch of red pepper flakes
Kosher salt and freshly ground black pepper
Preheat the oven to 350 F
Combine all of the ingredients to the sauce in a medium saucepan and simmer while preparing the meatballs.
For the meatballs: Combine all ingredients together in a mixing bowl and mix well. Then shape the mixture into golf-ball sized meatballs and place in a single layer casserole dish. Poor the sweet and sour sauce over the meatballs, cover with foil, bake for 35 minutes, and then remove the foil and bake for 10 more minutes.
Yea, I'd make them again. They were an adaptation(what I had lying around) of "Down Home with the Neelys" Sweet and Sour Meatballs. When I make these again I will follow the recipe exactly with the exception of the turkey(and use the 1 cup lentils, ½ cup brown rice mixture instead). Link here:
http://www.foodnetwork.com/recipes/patrick-and-gina-neely/sweet-and-sour-meatballs-recipe/index.html